Pastas with chunky sauces require shapes that hold the subtle flavours instead of letting them slide off. Try a short, tubular shape with grooves or ridges. These include "scooby-doos", corkscrews, fugelli, rotini, or bowties (farfalle).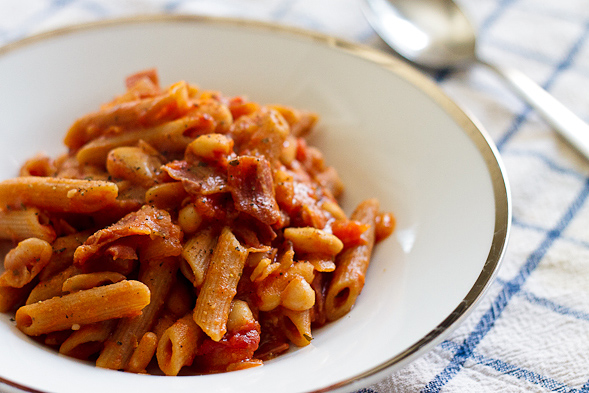 Pasta with Beans Recipe
Almost like the classic Italian pasta e fagioli (pasta with beans), this version is simpler and less like soup.
Serves: 4
Ingredients:
1/2 lb. (225 grams) whole wheat pasta such as penne or fugelli
1 (16 ounce) can or jar plain spaghetti sauce
1 (10 ounce) package frozen chopped spinach
1 (14 ounce) can cooked kidney beans
½ cup sliced black olives (pits removed), optional
Optional extras:
1 tbsp. olive oil
1 medium onion, chopped
2 cloves garlic, minced
1 cup Mozzarella cheese, grated
Directions:
Bring a large pot of water to the boil and cook pasta according to package directions.
If using onion and garlic, sauté gently in a medium pot until golden. Be careful not to burn.
Add spaghetti sauce to the pot containing onion and garlic. If not using optional ingredients, add sauce to a medium pot.
Heat sauce over medium heat, gently stirring in spinach.
It is best to defrost the spinach to ensure it is heated through, but frozen spinach will also work. Not draining the spinach means its vitamins remain in the sauce.
When pasta is cooked, remove from heat, drain and return to the large pot.
When sauce is heated through and spinach is fully defrosted, toss pasta with the sauce.
Divide among plates and top with grated cheese.
Tomato Pesto Pasta Recipe
In the winter, use canned tomatoes. In the summer, mix fresh chopped Romas with garden-grown organic basil and oregano.
Serves: 4
Ingredients:
3 Tbsp. extra virgin olive oil
1 (14.5 ounce) can chopped tomatoes with herbs (most come with basil and oregano)
2 cloves garlic, minced or pressed
14 ounce spiral pasta (fusilli); about 5 cups measured dry
3 tbsp. prepared basil pesto (available next to the pasta sauces)
3 tbsp. grated parmesan cheese* or vegan parmesan
Salt and pepper, to taste
Fresh basil, for garnish
*note most (if not all) brands of parmesan cheese contain rennet; an enzyme derived from cows and may not be suitable for all vegetarians.
Directions:
Heat oil in a large skillet over medium heat. Sauté garlic lightly (about two minutes), then add tomatoes and simmer over medium-low for about 10 minutes.
Meanwhile, cook pasta in a large pot according to package directions or until al dente. Drain and return to the pot.
Stir in basil pesto and add salt and freshly-ground black pepper, to taste.
In the large pot or a large bowl, toss pasta with sauce and mix gently. Garnish the bowl or individual servings with chopped basil and parmesan before serving.
---
What is the best cat spraying no more? Find out in the article.
Online is plenty of best beard oil reviews.
Everyone is able to buy best handgun safe  it is so easy now.